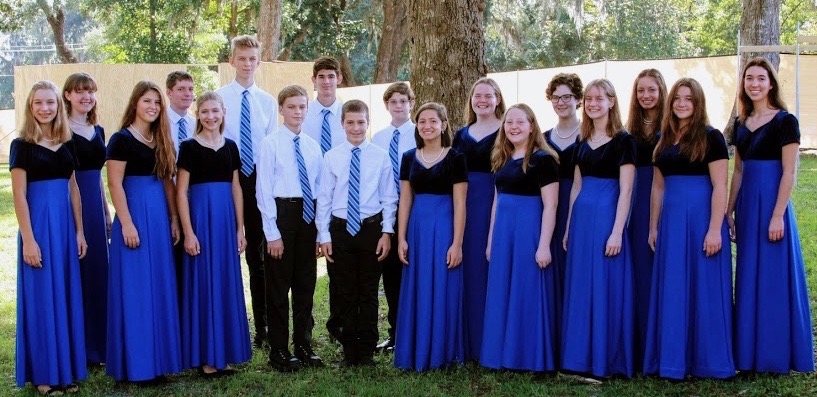 Who We Are
Inspiring the next generation to exult in our Lord Jesus Christ through musical excellence, purposeful relationships, and servant leadership!
Allegiance is a multi-denominational youth choir with members from various churches throughout the community. Students learn to read music and sing in 5 part harmony (SSATB). We perform locally and nationally. Our repertoire includes spirituals, hymns, anthems, contemporary Christian songs, and classic choral literature.
The Mission we embrace:
To inspire a passion for music that reflects the majesty of God.
The Vision we live :
A spiritually vibrant community of young adults who glorify God with our music, fellowship, and service.
The Values we hold:
Faith – We pray every individual will desire to follow Jesus Christ as Lord and Savior. (Deuteronomy 6:5) (Ephesians 2:8-9)
Artistry – As image bearers of Christ, we strive for our art to reflect His creativity, beauty, and precision. (Genesis 1: 26-27)
Relationship – We strive to cultivate relationships that honor God and help us grow in our walk with the Lord. (Proverbs 27:17)
Character – We strive to live distinctly Christian lives that shine as bright lights in the darkness. (Philippians 2:15)
Our History:
Allegiance Youth Choir has been training young musicians for over 25 years. Allegiance began in 1996 under the direction of Pam Helton, the music minister at Amelia Baptist Church and a voice teacher at Florida State College at Jacksonville. Pam Helton remains an integral part of Allegiance. Allegiance is currently under the direction of Dr. Christie McCulloch and is accompanied by Mr. Solomon Johnson with Ms. Kathryn Sawyer serving as ministry assistant.
Allegiance loves to bless our community with free performances at local venues such as Dickens on Center and in area churches. Allegiance also regularly honors our senior citizens with concerts in retirement and nursing homes. Each year Allegiance travels on tour to various parts of the United States. Past tours have taken the group to Washington DC, California, New York, Colorado and all across the southeastern United States. As part of Allegiance, students learn discipline, dedication, responsibility, and kindness as they work hard to prepare music in service to their community. The Allegiance Choir tour includes not only singing, but also opportunities to share the love of Jesus with those in need, by volunteering in the communities where they perform.
Become a Member of Allegiance Youth Choir:
We welcome 6th – 12th grade students interested in singing with Allegiance to join us Sunday night. We rehearse every Sunday evening, during the school year, from 6:15pm – 7:30pm at Amelia Baptist Church in Fernandina Beach, FL. For more information, look for us on Facebook, Instagram, or contact Amelia Baptist – (904) 261-9527.